How do I create videos with Canva?
Since the end of 2021, Canva has enabled video editing with customizable templates. Thanks to a number of free tools that facilitate video creation, Canva is a simple and effective solution for creating professionally rendered animations.
Canva simplifies video editing
Now you can create animated videos easily and free of charge, without having to download any software! Thanks to Canva and its intuitive interface, video editing is now accessible to everyone. Canva offers a host of tools, from predefined text animations to the ability to integrate royalty-free videos directly into your Canva video montage. What's more, the many templates available are attractive and easy to customize. Finally, you can choose from several formats to suit each social network.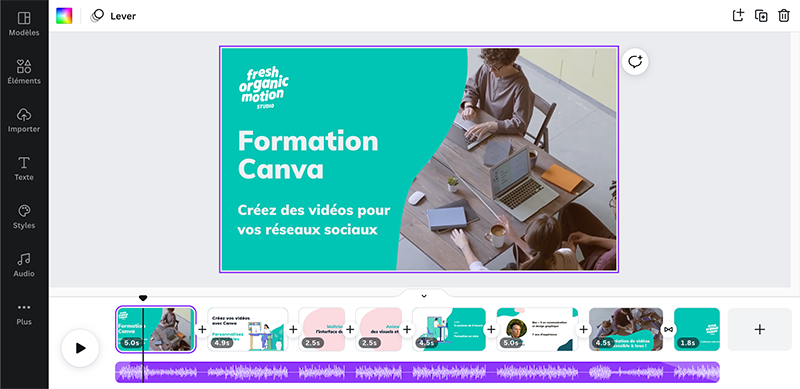 Who can create videos on Canva?
Video creation on Canva is designed for those who want to create videos quickly and easily. Canva's interface is particularly suited to novices who have never opened professional software such as Adobe After Effect or Première Pro. The entire creation process on Canva takes place on their site, so no particularly powerful computer is required. So it's a very useful way of making videos without the intervention of a graphic designer. You can then download them for posting on your website or social networks!
To take your technical and artistic skills even further, we offer a training course in video editing and design on Canva. It's a sure-fire way to make your videos readable and pleasing to the eye.
Are you interested? Please visit our training page:
Thank you so much for reading this article and see you soon 🙂