Can you animate with Canva?
Canva offers free, easy-to-use tools for creating animated videos! Motion design allows you to create animated videos using images, drawings and text. It's a format that can be costly to produce, as it requires very specific professional skills. Fortunately, Canva animation makes it possible!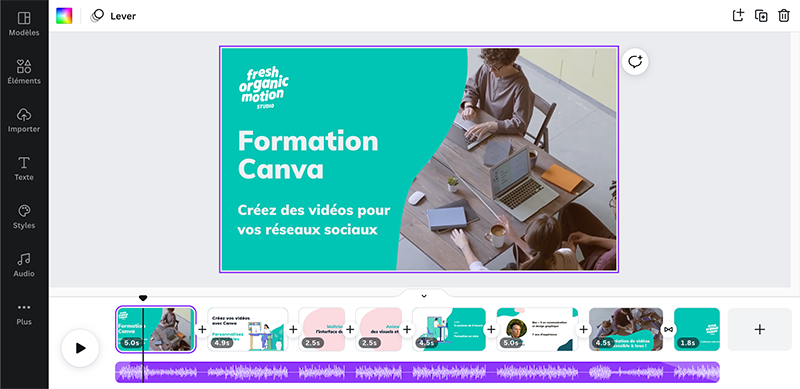 Animation made easy with Canva
Some companies need video on a regular basis, but don't have a large budget. That's where Canva comes in!
The site offers several video formats, from the traditional landscape video to the real thing from Instagram. Thanks to several well-designed and trendy templates, Canva offers novices the chance to make motion design simple.
Animated videos created on Canva are intended for animated content for social networks, internal communication projects or even professional presentations that need to be more exciting than power point slideshows.
How do you make a great animated video without knowing anything about design?
In addition to providing simpler technical tools than professional software, Canva offers elegant templates. These templates provide an excellent basis for an attractive, readable structure.
But to take things even further, our motion design agency Fresh Organic Motion has created a Canva video training course. In 3 2-hour sessions, you'll learn all there is to know about the Canva video interface. You'll also learn the fundamental concepts of design, so you can create beautiful videos without getting in over your head. Your presentations will be successful every time!
We offer our expertise in design and animation to companies that don't have a large communications budget. Canva is a great tool that we believe in because it meets very specific needs.
Please feel free to browse our site and contact us if you have any questions! We'll be delighted to help and advise you 🙂